Conference and Exhibition – Visionary Voices

December 5 – 7, 2018 – Register Now!
The plan is now clear and a date is set: November, 2019 – when North Carolina will begin implementation of managed, integrated care for the delivery of Medicaid healthcare services. For those with mild to moderate behavioral health needs, integration of care begins immediately. For those with the highest levels of MH/IDD/SUD needs, change will occur sometime after 2020 when Tailored Plans will integrate physical and behavioral healthcare utilizing the current public managed care system. If you have not begun to prepare, now is the time! Change will happen rapidly.
This year's conference will offer attendees an opportunity to hear from state and national leaders on key issues that will prepare you to work with the incoming managed care organizations.
ONSITE REGISTRATION AVAILABLE.
Please use this On-site Registration Form, bring to conference registration desk for processing.  NOTE the Sparking Session – Integrated Care:  A Hub Model IS CLOSED to ONSITE registrants.

Provider Success Symposium, Dec. 4th
Change is Here!
Critical Issues for Provider Success
Innovation Awards
Make Reservations Today!
2018 Conference & Exhibition Conference and Expo
December 5-7, 2018
(pre-con Day, Dec. 4th)
Hotel Information
Pinehurst Resort is sold out most nights, but you can be put on waiting list
Pinehurst Resort – Call to make reservations: 1-855-287-1286;
Use Booking ID #62463
Download Pinehurst Hotel Reservation Form (PDF)
Hotel rooms are blocked at Homewood Suites (Free Shuttle to Pinehurst Resort) at the special $109 rate.  To make reservations at Homewood Suites CLICK HERE
Hotel Space at $109 rate is also available at Springhill Suites – 910-695-0234.  Pinehurst Resort will provide shuttle service to conference on Wednesday/Thursday/Friday mornings and back.  Room block only good TILL 11/16, but may fill up sooner.  Book your room online
Exhibit, Sponsorship, & Advertising Opportunities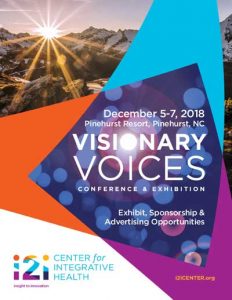 The i2i Center will continue a 20 year tradition of hosting one of the largest gatherings of leaders of mental health, intellectual/developmental disabilities, substance use disorder services, and healthcare professionals. This event offers a valuable opportunity to advertise your product or service through Exhibiting, Sponsorship and or Advertising and we have a lot to choose from!
Download Exhibition, Sponsorship, & Advertising Brochure (PDF)
I'm IN:  Community Inclusion Meeting FREE
Dec. 4th 1:00 – 4:00 Pinehurst, NC
This meeting will launch I'm IN: Community Inclusion. I'm IN is a statewide initiative to promote and support innovative policies and practices that enhance opportunities for people with mental illness to fully participate in their community.
During the launch meeting on December 4, 2018 you will learn:
What we are doing, why we are doing it, and how you can help accomplish the goal.
How to use existing resources to support community inclusion
How to benefit from examples of community inclusion programs already underway in North Carolina and elsewhere
How and why you can participate in I'm IN: Community Inclusion by becoming a pilot partner
Session Evaluations
Find all Session Evaluations here.
Session Handouts
Click here for available Handouts