Conference and Exhibition – Save the Date

December 5 – 7, 2018
Make Reservations Today!
2018 Conference & Exhibition Conference and Expo
December 5-7, 2018
(pre-con Day, Dec. 4th)
Call to make reservations: 1-855-287-1286;
Use Booking ID #62463
Download Hotel Reservation Form (PDF)
Exhibit, Sponsorship, & Advertising Opportunities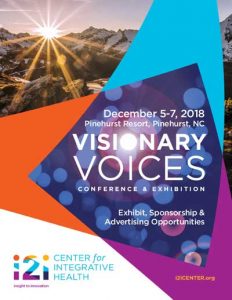 The i2i Center will continue a 20 year tradition of hosting one of the largest gatherings of leaders of mental health, intellectual/developmental disabilities, substance use disorder services, and healthcare professionals. This event offers a valuable opportunity to advertise your product or service through Exhibiting, Sponsorship and or Advertising and we have a lot to choose from!
Download Exhibition, Sponsorship, & Advertising Brochure (PDF)
Exhibitors Attending 2018 Conference Registration
Innovations Awards 2018 – Call for Nominations
The i2i Center for Integrative Health is establishing a new awards program – the Innovations Awards. These awards recognize innovation in services and programming to increase integrated, whole person approaches to care. Nominations will be accepted from any individual or from any organizations serving those who utilize NC's
publicly funded MH/IDD/SUD service system.
Due date – October 19, 2018
Download Nomination Form (.docx)