Conference and Exhibition – Save the Date

December 5 – 7, 2018
Make Reservations Today!
2018 Conference & Exhibition Conference and Expo
December 5-7, 2018
(pre-con Day, Dec. 4th)
Call to make reservations: 1-855-287-1286;
Use Booking ID #62463
Download Hotel Reservation Form (PDF)
Exhibit, Sponsorship, & Advertising Opportunities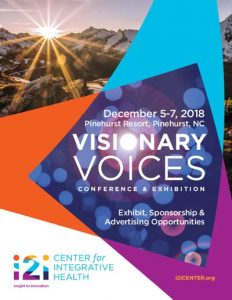 The i2i Center will continue a 20 year tradition of hosting one of the largest gatherings of leaders of mental health, intellectual/developmental disabilities, substance use disorder services, and healthcare professionals. This event offers a valuable opportunity to advertise your product or service through Exhibiting, Sponsorship and or Advertising and we have a lot to choose from!
Download Exhibition, Sponsorship, & Advertising Brochure (PDF)
Call for Presentations
This year's conference will focus on innovation in the evolving public system that highlights whole person, integrated care for primary, behavioral health and I-DD services. We encourage submissions that address clinical, administrative, and operational aspects of systems and service integration.
Suggested topic areas include but are not limited to the following:
Value Based Care and Payment Structures (with an emphasis on integrated care)
Technology, Data and Information Sharing (including consumer self-management through technology)
Evidence-based Initiatives and Innovations: Supporting Recovery, LTSS and Whole Person Care
Cross-System Linkages (DSS, Public Health, State hospitals, etc.)
Critical Consumer Participation and Self-advocacy related to Integrated Care
Proposals will be considered for pre-conference and main conference sessions (1.5 – 2 hours, policy focused), or as Sparking Innovations topics (1 hour, project focused).
Applications are due August 7, 2018
Email submissions to jean@i2icenter.org.